The Listing performance dashboard is an exclusive feature that sellers and their Experts receive access to soon after their home has been listed for sale on StreetEasy. The dashboard provides transparency and visibility into your listing performance over time, including comparisons to similar homes that have sold recently or are currently for sale on StreetEasy.
Here's what the Listing performance dashboard can help you do:

Get a snapshot of your listing's performance and activity including days on market, views, messages, saves, and shares.

Easily compare listing performance and activity to similar homes on the market, backed by StreetEasy's extensive database.

Take a closer look at similar homes that have sold recently and any active listings on StreetEasy.

Make informed decisions on the selling strategy for your listing based on market comps.
How do I access the dashboard?
For sellers: Log in to your StreetEasy account, go to the listing page and click SEE PERFORMANCE.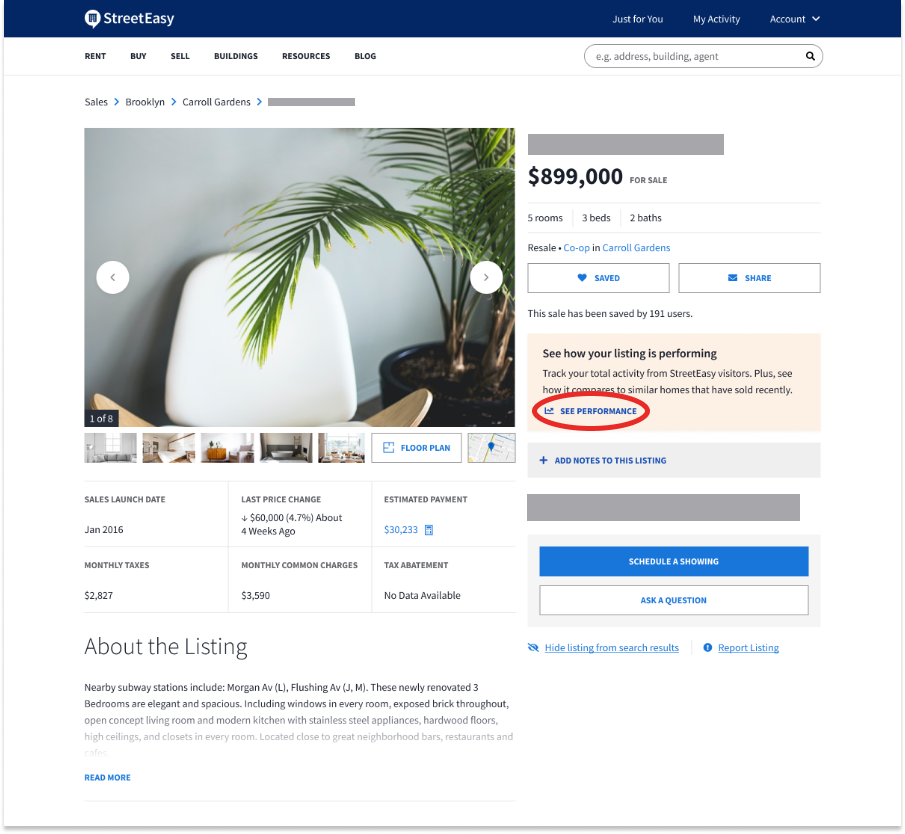 On what devices is the dashboard available?
The dashboard is available on desktop and mobile web.
Who is the dashboard available to?
Sellers with a home listed by an Expert can access the dashboard. The Expert is also able to view the dashboard and is your point of contact for questions and clarifications arise.
Listing performance dashboard experience overview:
At the top of the dashboard, you'll see the home address and unit number, building type and location, the total number of rooms, number of bedrooms, number of bathrooms, and the date listed. You'll also see Highlights of your listing including the list price, total days on market, and number of views, as well as the median numbers for these data points among similar homes for comparison. Clicking on LISTING ACTIVITY or SIMILAR HOMES will take you to these sections further down the page.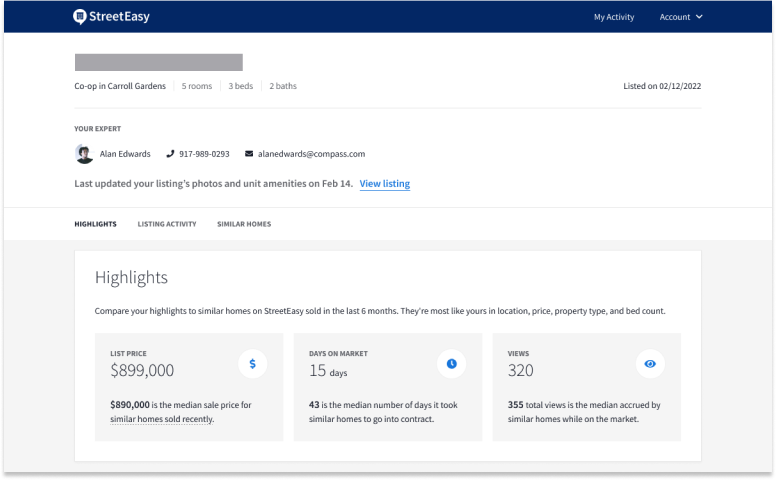 In the Listing activity section, you'll see a chart displaying the total number of views accrued each day, in comparison to the median total number of views accrued by similar homes. Additionally, you can see the total number of messages, saves, and shares for the home, and compare them to other similar listings. You can also analyze different time frames by clicking on the drop down menu at the top and selecting the desired range.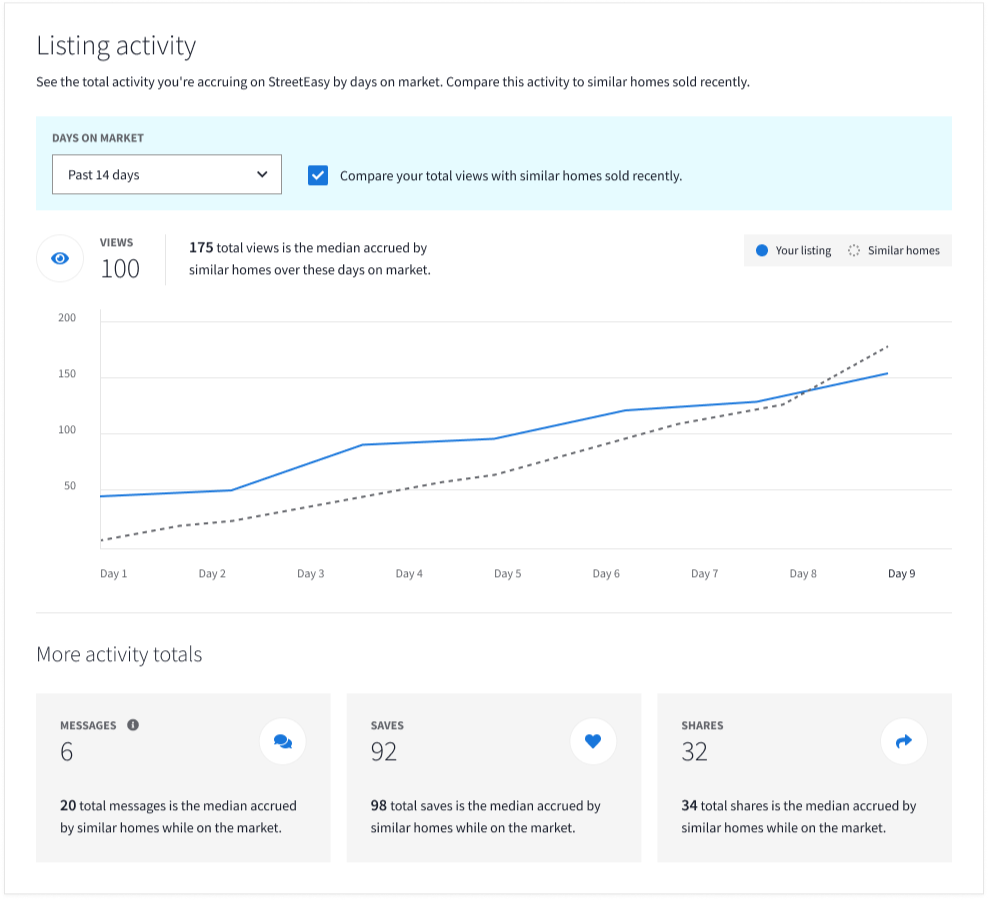 Scrolling down further, you'll be brought to the Similar Homes section. This table allows you to compare your listing to similar listings that have sold recently, including the date it was sold, list price, sale price, price per square foot, monthly costs, total days on market, and total number of views the listing received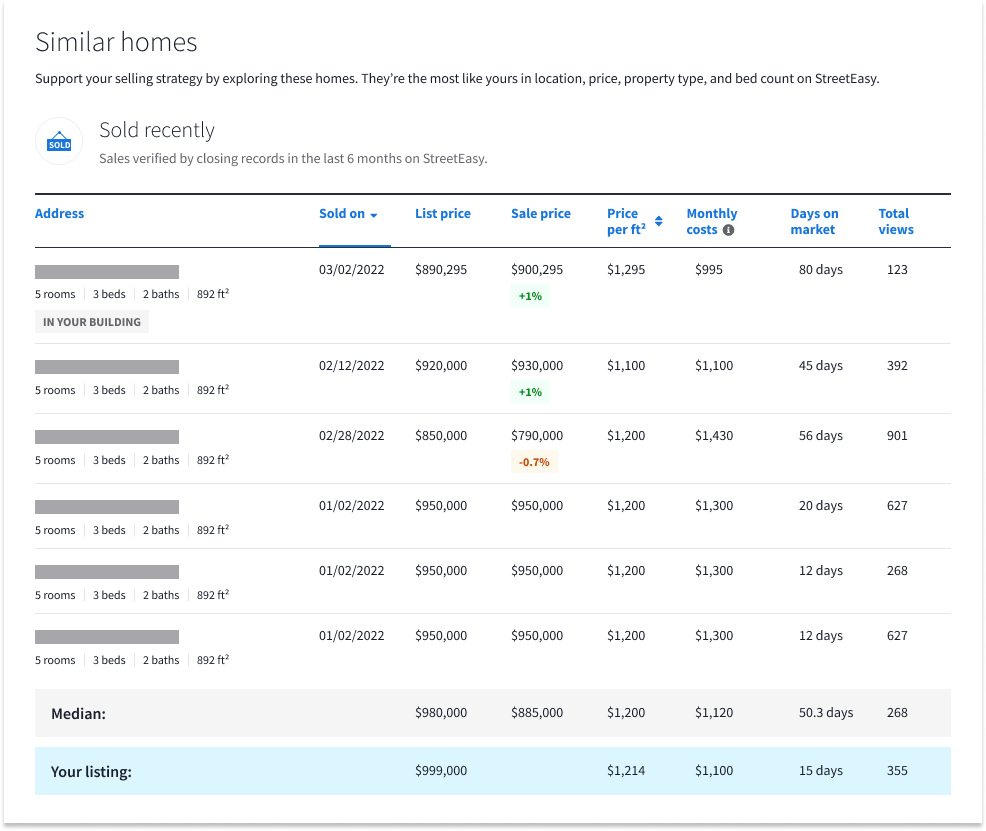 You can also review the same data for listings that are currently for sale on market.