StreetScape is a StreetEasy iOS mobile app feature that allows users to explore New York City's residential real estate marketplace through augmented reality (AR). StreetScape allows users to scan nearby buildings, see 3D markers for each residential building, and interact with 3D markers to learn more about the building, associated listings, and available amenities.
How does it work?
Upon accessing StreetScape, users will be asked to share access to their camera and location. Access to the camera and location are required to use StreetScape. StreetEasy will not record or store data about your surroundings or location.

Once users have granted StreetEasy access to their camera and location, users will have the ability to use their camera to scan their surroundings and see 3D markers in front of residential buildings.

Users will have the ability to tap on 3D markers to see a "building preview" where they can see the high-level details about the building, if the building has any active listings, and the ability to "save" the building to receive updates. Additionally, users can access the Building Details Page through the "building preview" to learn more details about the building.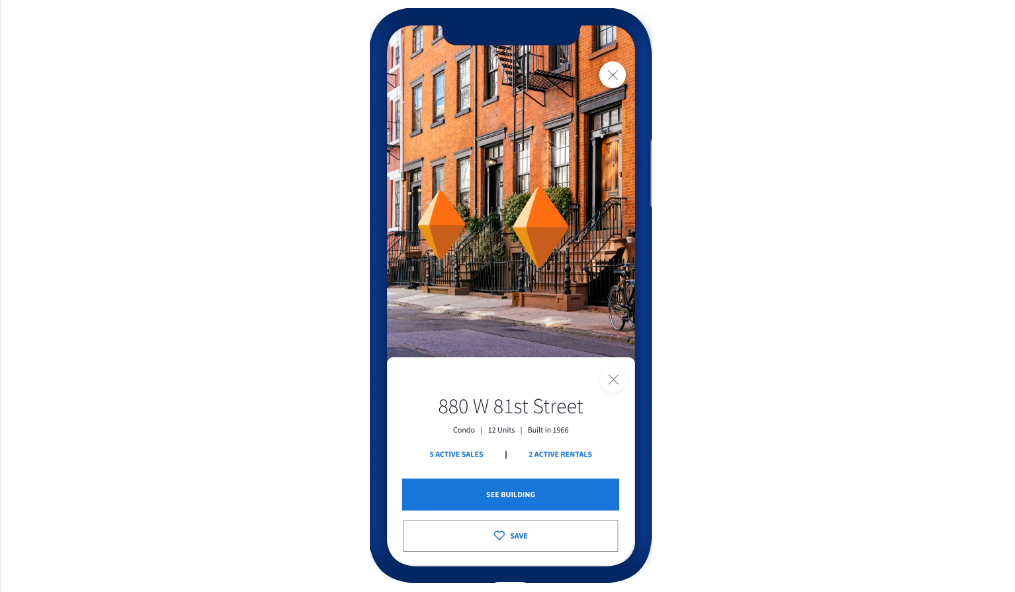 What are the requirements?
In order to use StreetScape, the following parameters must be met:
iPhone users (not available on Android devices)

Device Model: iPhone XR, XS, XS max or newer (any iPhone device released in fall of 2018 or later)

iOS version: all versions of iOS after 14.0, except 15.4 and 15.4.1

StreetEasy app: StreetScape will only be available on the StreetEasy flagship app. StreetScape is not a standalone app and will not be available via StreetEasy's Agent Tools app.

Must be located in New York City, any of the five boroughs, when attempting to use StreetScape

Must be scanning a residential building to see a 3D floating icon

Must provide the StreetEasy app with access to camera and location





What are some limitations with StreetScape?
Location:

StreetScape is only available in New York City, any of the 5 boroughs.

StreetScape works best when on the ground floor on the streets of New York City.

Limited camera access:

Limited light, poor weather, or a broken camera may limit a user's ability to use StreetScape.

No residential buildings nearby:

StreetScape only works for residential buildings. Users who attempt to use StreetScape where there are no residential buildings will have limited access and may not see any 3D markers.
What if I'm having trouble using StreetScape?
If you're having trouble accessing StreetScape, make sure you meet the requirements listed above. If you continue to have issues, please try reinstalling the StreetEasy app or contacting StreetEasy's Customer Support Team. Users can email support@streeteasy.com.
How do I report inaccurate 3D markers?
If you notice an inaccurate 3D marker, please report this to the StreetEasy Team through the "building preview" or on the Building Details Page. You will see the option to notify the StreetEasy Team if a 3D marker is inaccurate.
What does the StreetScape user login experience look like?
Users should click on the "Explore With StreetScape" button on the search platform to initiate the login experience.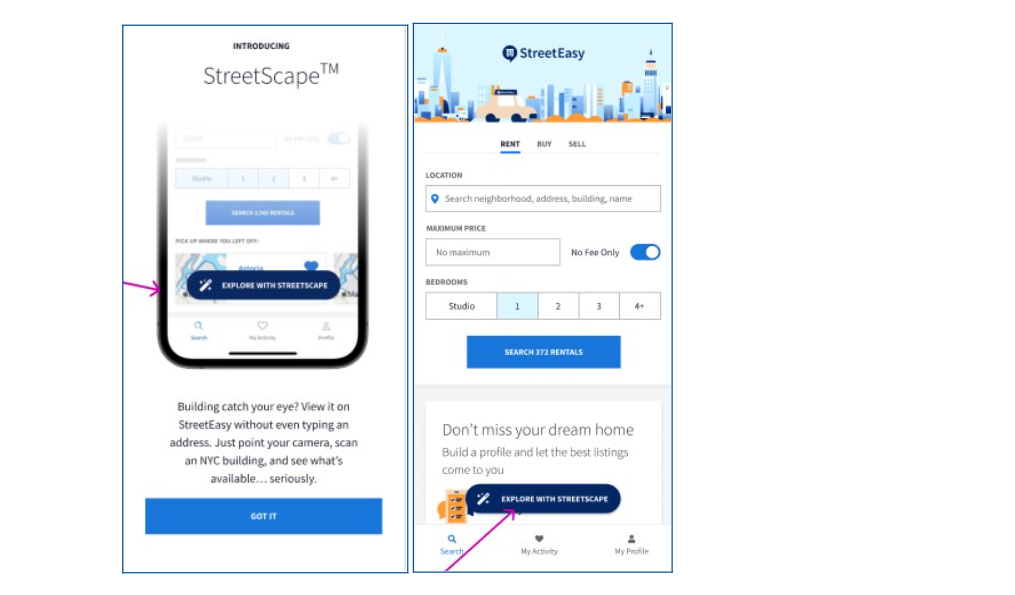 Users will be prompted to allow StreetScape to have access to their camera, which should be agreed to. This allows the user to scan buildings in the neighborhood of choice. StreetScape will drop floating icons in front of buildings for the user to interact with. Please note that we do not record or store data about the user's surroundings.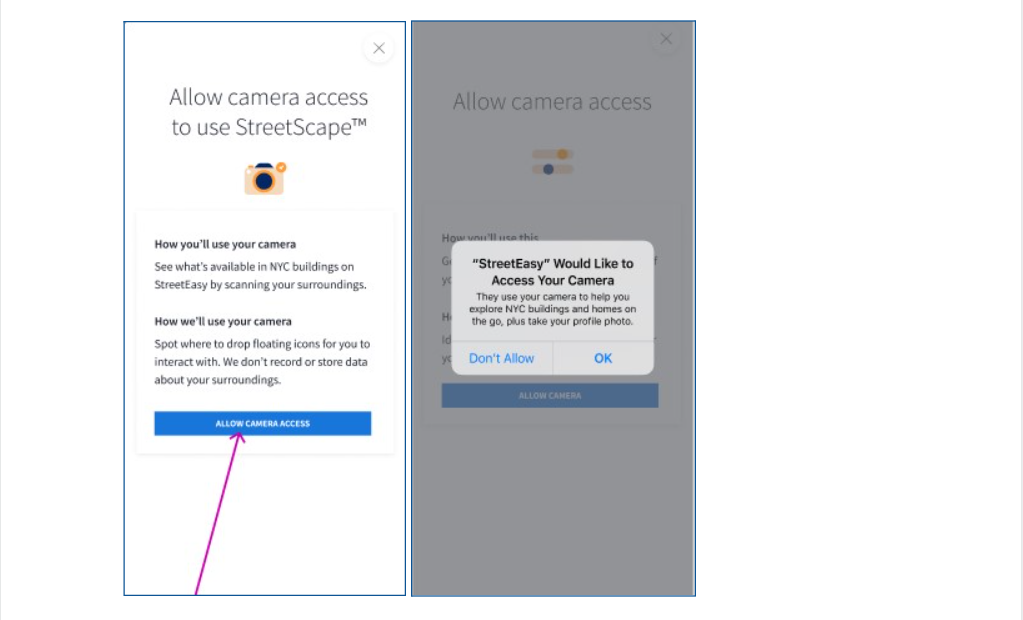 StreetScape will ask to allow location access of the user. It is used to see where the user is located, pull up info on buildings and homes near the user, and better the user's search results. Please note that we do not record or store data about the user's surroundings.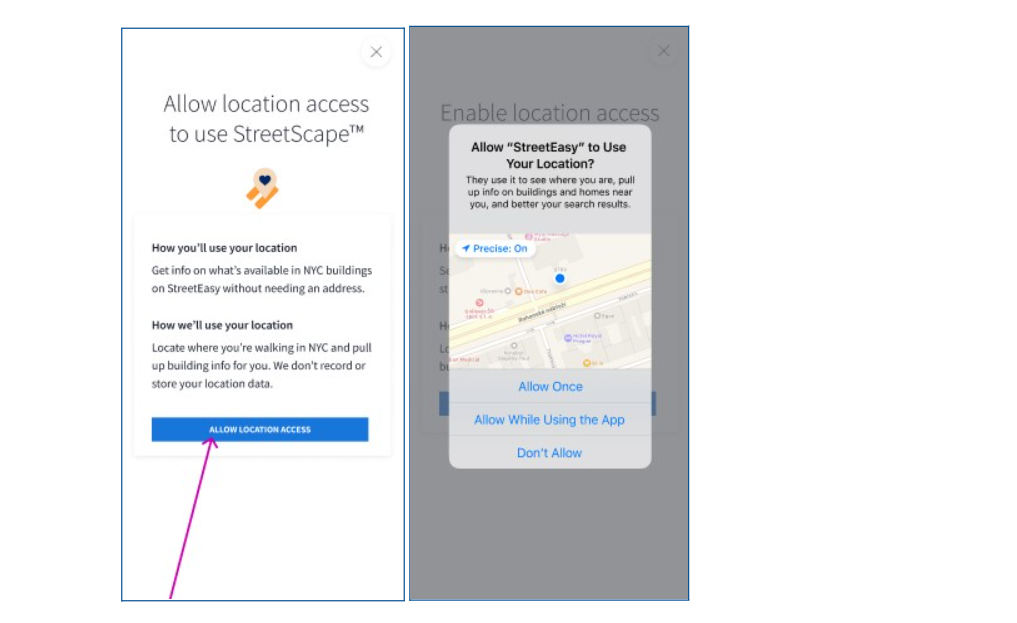 Once users allow location access, they will be able to scan buildings across the street. They should tap on the floating icon to get info on a building. If users are not seeing icons, they should point their phone camera to buildings closer to them.