Getting set up
When NJ listings are received from the HCMLS or Zillow Rental Manager, the contact information for that listing will create a contact record on our backend. This will ensure any inquiries/leads received for the listing are sent to the respective listing agent(s). If you have never created an agent account on StreetEasy, you will still receive those leads to the email address included for that listing on the HCMLS, however, you will not be able to view all your NJ listings in one place until an account is created.
I am licensed as a NJ agent, how can I register on Streeteasy?
First step is to create a free account on

https://streeteasy.com/

Once you have an account, submit a request to

support@streeteasy.com

with the following information:

Full Name

Email on account created

Phone number

Photo (pdf, jpeg, or screenshot) of your NJ real estate pocket card/license
NYC accounts have manual entry access meanwhile NJ accounts do not. NJ accounts are essentially read/view only accounts which can only be used to feature a listing. Due to both accounts having different listing entry access, these cannot live under the same account as it will prevent NYC listings from being edited/created.
I am duly licensed as a NJ and NY real estate agent. Can you add my NJ listings to my NYC account?
We only support 1 email per account.

You will need 2 accounts on StreetEasy. One for NYC (license required) and one for NJ (pocket card). Each account must have its own email address.
NJ account usage
NJ Accounts can

only

feature listings

and purchase the

PRO membership

to receive 20% off all features purchased.

NJ accounts

only

display

sale

listings via the

My Listings

page. These can be featured via the same My Listings page by selecting the checkbox next to the listing and adding to cart.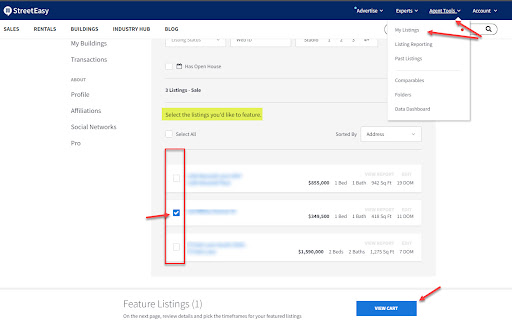 Rentals

are not

visible via the

My Listings

page. These can be seen via the agent's profile page by going to

Account > Profile >

Clicking into the

profile hyperlink

.

To

feature

rentals, the agent must click on the rental listing via the profile page and

Add to Cart.